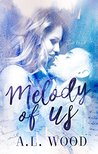 Melody of Us
by
A.L. Wood
My rating:
3 of 5 stars
3.5 Stars!
I just finished,
The Melody of Us
, and I feel like I just read a story about two people who love each other, but keep each other at arms length for no reason. Don't get me wrong, I liked the story line, and the characters, but I feel like there was more heartache going on then there needed to be. With Lyrik practically being on her own at such a young age, I was hoping she would have had a happier life and the feeling of being loved and wanted once she got older. I also wish that Anson and Lyrik didn't hide their friendship from everyone the whole time. I understand their upbringings were totally opposite, and one was more popular then the other, but at the end, I was left feeling that I needed more happiness when it came to them as a couple. One thing I did really like was their letters. Especially the ones when they were five!! Anson and Lyrik had me cracking up on a few of them. The back and forth about not liking each other and Anson telling her to move was too funny.
"Lyrik,

I want you to move. I don't know why you're my neighbor but I don't want you to be. Your hair is brown and brown is not pretty. Please leave.

Anson Blake"
I think reading all their letters was one of my favorite things about the story. That was one way I felt like I was able to connect with the characters and their relationship. I just would have liked to read more about the happy side of them. But once it got to that point, the story was already ending. It was good, but unfortunately, I don't think I would consider it one of my favorites.
-Juls
View all my reviews