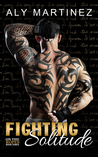 Fighting Solitude
by
Aly Martinez
My rating:
5 of 5 stars
I have so many emotions pulsing through me right now. I couldn't wait to read Quarry's story, and now that I have, I'm sad that I did. I fell in love with these Page boys from the very start in
Fighting Silence
. Each of them having a unique personality, but all of them consuming my heart in different ways. To know that this is the conclusion to this beloved series, well...it's bittersweet.
Just as I assumed, Quarry's story shattered my heart and mended it in a way that only Aly Martinez can. As Quarry struggled to overcome immense guilt and survive a love lost, I found myself sobbing as if I too could feel his pain. I was nervous as to how he would find love again, especially after my emotional heart was drawn to Mia, but I underestimated the unaltered connection between Quarry and Liv. My mistake, after all...she was a James. I should have known that her spitfire attitude, her heart of gold, and her father's sense of humor would surpass all boundaries Quarry set for himself. Watching these two find their way back to each other warmed my heart and put a silly smile back on my face.
More than anything, I appreciated how Quarry's love for Mia was never diminished or made to seem less important than it really was. I loved how Aly brought everything full circle, gave us peace, and showed us how everything works out just as it is supposed to in the end. Quarry and Liv were meant to be together. They had a love that stood the test of youth, heartache, and time.
Fighting Solitude
is definitely a MUST read as ALL Aly Martinez books are. Aside from being an emotional story, it is filled with love, humor, and suspense. Not to mention some super sexy scenes! As much as I loved Quarry and Flint, Till has always owned my heart. His P.O.V....it was EPIC. I LOVED every single word. For me, it was EVERYTHING. I felt his love. His pride. His exhale.♥
The
On The Ropes
series is my most favorite of all fighter series. Though I'm sad to see it end, I am excited to read what's next from this brilliant author.
♥ Review by Lys
View all my reviews