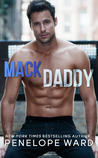 Mack Daddy
by
Penelope Ward
My rating:
5 of 5 stars
It happens to me every time. It never fails. Every time, just before I start a Penelope Ward novel, I get this vibe... this feeling. It's a feeling of pure excitement with a mix of inevitable disappointment. A build up of anticipation of what's to come, really. The thrill of knowing I am about to read an amazing story with this reality of also knowing it will come to an end and that I will never again get to experience it for the first time. This book was no different!
Mack Daddy
is one to savor. One to hold on to until the very last word. The story line was sweet and heart warming, but for me, it's always Penelope's characters. Especially, her heroes. They are always so much more than your average book boyfriend. Mack was EVERYTHING. He was sexy, smart, and witty, but most of all, he had that special magic that Penelope gives them. I don't know what it is exactly. A unique characteristic? An endearing personality trait? I don't know. All I know is that he captured my heart with his
Adventures of Frankie Four Eyes
. From that point on, I was puddy in his hands. No wonder... even after all those years, Francesca couldn't let him go. Like all Penelope Ward novels, I loved it. I absolutely, freaking LOVED it.
♥ Review by Lys
View all my reviews