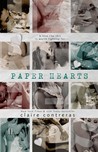 Paper Hearts
by
Claire Contreras
My rating:
4 of 5 stars
"I met a girl once, who changed my world. Not just my world, but my life. I knew the moment we met that we were meant to be together, but then I left, and she let me." ~Jensen
Paper Hearts
is an emotional, second chance love story about Mia and Jensen from book 1,
Kaleidoscope Hearts
. Although we are first introduced to these two characters in Oliver's and Estelle's story, it does not need to be read first. I do however, recommend you read the free prequel novella,
Torn Hearts
, to get a better understanding of the heartbreak that took place between Jensen and Mia. Their journey spans over 5 years as they try to move on apart and make their way in the world. While Jensen has never been able to let go of the girl he left behind, Mia has built a wall around her heart after she lost the love of her life. Amongst thriving careers on opposite sides of the country, they must decide if a second chance at love is worth all that they have been through. Between Mia's hilarious over the top banter, and Jensen's sweet worded newspaper column, I really fell in love with these two. Add in a sweet little girl and a group of life long friends, and it's the perfect mix for a great romance read. I highly recommend!
"With one look he managed to stumble into my life, the way a drunk undressed in the dark. With one look he'd managed to bring my guard back down. If I stayed any longer, I would let him break down all the stones I'd built in the aftermath of his love, and I couldn't bear it." ~Mia
♥ Review By Lys
View all my reviews