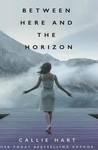 Between Here and the Horizon
by
Callie Hart
My rating:
5 of 5 stars
WOW! This book was so much more than I had anticipated. Not that I didn't expect a fantastic read by Callie Hart... I loved Calico, it just took a turn that I did not see coming. What a huge surprise that was! I was completely shocked and thought, "What the hell just happened?!" I didn't read the synopsis (Who needs to read the synopsis of a Callie Hart book, right? You simply 1-click!), so I had no idea what I was getting myself into. That being said, I really enjoyed this book. It was hauntingly beautiful. It was refreshing to read something original and unique. I loved the hero and the heroine in this story. Both were incredibly strong and selfless characters. I adored their journey together. I was lost, my heart ached, and I fell in love right along with them.
Between Here and the Horizon
is a tale of betrayal, lust, unrequited love, and redemption. I highly recommend it!
♥ Review by Lys
View all my reviews