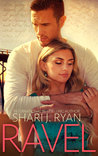 Ravel
by
Shari J. Ryan
My rating:
4 of 5 stars
*** On behalf of I Love Story Time, review by Juls ***
4 stars!
"From experience, I know that life is cruel and dark, full of hate and pain. I've convinced myself that the fairy tales I once believed are merely stories written for innocent children who aren't ready to be exposed to the cold realities of life."
Ravel is a story that I really didn't expect. From the blurb, I knew I was reading Daphne's story about her abusive relationship and the difficult choices that she would have to make. However, I got so much more! I was drawn to this story just by the synopsis, but I was captivated by the story line and the characters. I felt so bad for the situation Daphne found herself in when it came to Trent. I just couldn't figure out why she lived through that for so long. Then when she finally decided that she has had enough and is willing to move on, I was glad she finally had the courage to do so. It didn't hurt that she had the help of a sexy Marine named, Kemper. Kemper was her knight in shinning armor. Kemper was a great guy. He was willing to be there for Daphne when she needed him most. More importantly, he was willing to show Daphne what true love is all about. I enjoyed their story and liked that this wasn't only about an abusive relationship, or the Marine coming to the rescue, it also gave us a glimpse of what being in a relationship with someone in the military is all about. This is a great story, and I would recommend it to my fellow readers!
~ Juls
View all my reviews